(866) 912 5363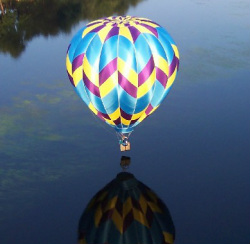 A
Hot Air Balloon ride
with What's Up
Ballooning
is a once in a lifetime experience and should not be missed. Come to the beautiful Contoocook River valley for a
Hot Air
Balloon ride
and see New Hampshire from the top down. On a clear day we can see the White Mountains to the north, Boston to the south, and the Atlantic Ocean to the east. A
balloon ride
is a wonderful way to explore the natural beauty of New Hampshire. Sometimes we see moose, deer, and the occasional eagle. We pride ourselves on making your flight special for you and your family and friends.
---
All of What's Up
Ballooning's
Hot Air Balloon Rides
are Private Charters. This means
just you, your family or friends, and the What's Up
Ballooning
Pilot, providing you the professional, personalized service you want.
We are centrally located in the Mink Hills area of New Hampshire. What's up
Ballooning
is a short
drive from Boston MA, Hartford CT, Portland ME, or for that matter, wherever you are in New England!
One of our advantages of being a little farther away is that we are not limited to what altitude we
can fly in. FAA regulations make our flight area UNLIMITED!
---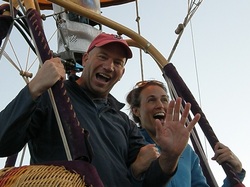 Some
balloon
operators in New Hampshire are close to the major commercial airports.
Their close proximity to these airports limit these companies to fly only at lower altitudes.
Even though
balloons
are big and colorful, they are not detected by radar.
What's Up
Ballooning
flies in the Contoocook River valley, away from the major
airports. We have the advantage to be able to fly above 3000 feet, and on
occasions, we reach a mile or more.
Our Newest Balloon "The Breeze" is capable of carrying your party of 3 to
6
people, plus the
pilot. Our smaller additional
balloon
"Monkey Business", can carry 2-3 people, plus the Pilot.
So now What's Up ballooning can take your small group or just you and that special someone for a ride to remember!
Once back on the ground we celebrate your flight with a Champagne toast (sparkling cider for the under 21 crowd).
---

---