(866) 912 5363
(toll free)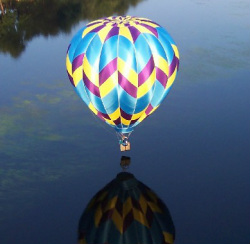 While visiting the Smoky Mountain NationalPpark region, consider a
Hot Air Balloon ride
with What's Up
Ballooning
. There are many unique ways to see the sights but taking a hot air balloon ride with Whats Up Ballooning is a once in a lifetime experience and should not be missed. Many people have a balloon ride on their "Bucket List" . While visiting the beautiful and historic Gatlinburg, Pigeon Forge, and Sevierville areas of East Tennessee, come see the Smoky Mountains from the top down. On a clear day we can see the Smokys to the East, Douglas and Cherokee lakes and the Cumberland Plain. A
balloon ride
is a wonderful way to explore the natural beauty of East Tennessee. Sometimes we see wildlife including deer, and the occasional eagle. We pride ourselves on making your flight special for you, your family and friends.
Our flights are scheduled at dawn and a few hours before sunset. Balloons fly at these times as this is when the winds are the calmest. Midday is great for soaring birds and gliders but not so good for balloons.
---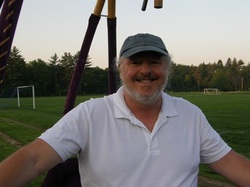 All of What's Up
Ballooning's
Hot Air Balloon Rides
are a true Balloon ride where we float with the winds currents to our eventual landing. We are not tethered to a fixed spot.

We fly in the Sevier and Jefferson counties area of East Tennessee. What's up
Ballooning
is a short drive from Sevierville, Gatlinburg and Pigeon Forge. We are the closest Balloon company to Smoky Moantain National Park. So, while visiting this magical part of East Tennessee come enjoy a flight with What's Up Ballooning.
Your pilot Ray and his wife Mary Ann are not only both pilots but repair and have built balloons. Both are past FAA safety Counselors. Their passion for ballooning encompasses all aspects of the sport.
---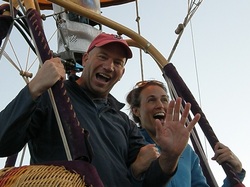 Our newest Balloon, "The Breeze", is capable of carrying your party of 3 to 6 guests, plus the
pilot. Our smaller additional
balloon
"Monkey Business", can carry 2-3 people, plus the Pilot.
So now What's Up ballooning can take your small group or just you and that special someone for a ride to remember!
Once back on the ground we celebrate your flight with a traditional champagne or sparkling grape juice
toast, your choice.
---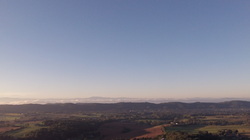 We make it as easy as possible to book a ride with us.

1.) There is no deposit required to reserve a balloon flight with us.

2.) If you use the link below you will know instantly if the date and time you request is available and

3.) You can reserve that date and time immediately. You will receive an Email confirmation and a followup phone call usually the day before your flight.

You can also reserve by call the toll free number.o what are you waiting for Book your Hot Air Balloon Flight Today!


---

---